Lynn DeLisi Named the 2022 Lifetime Achievement Awardee
Lynn E. DeLisi, MD is currently an adult psychiatrist in the Cambridge Healthcare Alliance (CHA) in Somerville MA, Director of Faculty Affairs for the Department of Psychiatry at CHA and Professor of Psychiatry at Harvard Medical School, as well as editor-in-chief of the journal,
Psychiatry Research
. Her current position is chief psychiatrist for the 1
st
episode psychosis treatment program at CHA.
She has edited and authored over 300 books and manuscripts, co-founded the journal,
Schizophrenia Research, the International Society of Psychiatric Genetics and The Schizophrenia International Research Society.
She is a Fellow of the
American College of Neuropsychopharmacology
(ACNP) and of the
American Association for the Advancement of Science
(AAAS). She received the 2020 Ming Tsuang Lifetime Achievement Award for her work in psychiatric genetics.
Dr. Lynn DeLisi will receive the 2022 Lifetime Achievement Award at the 2022 Congress of the Schizophrenia International Research Society in Florence, Italy on 6-10 April 2022
A Message from Lynn DeLisi, 2022 Lifetime Achievement Awardee
It is with great honor and humility that I accept this award as recognition from my colleagues for my achievements to understanding the underlying basis of schizophrenia. While I may not see it uncovered in my lifetime, I can say that I persisted and dug as hard as I could to find it. Throughout my career, I knew it was not me alone that could ever accomplish this feat. It truly "takes a village" and so I dedicated a good portion of my time bringing together other people's work in journals and at meetings, as well as in this international society, so that progress could be made by sharing and collaborating together. When I first began in my career there were barriers placed in front of women to succeed, and yet I plowed through them and dared to think that woman could be as productive and creative as men. We have come a long way since then, in the 44 years I have been focused on schizophrenia research. I hope I have paved some of the way for younger investigators to move on further and have now been focusing on mentoring them to do so, teaching what I have long known, that persistence, hard work and an internal drive to achieve will ultimately lead to progress.
A Message from Margaret Niznikiewicz, PhD
I have been very happy to hear that Dr. Lynn Delisi has been recognized with the prestigious Lifetime Achievement Award of the Schizophrenia International Research Society (SIRS). Dr. DeLisi has dedicated her career to improve the lives of people with schizophrenia, and to promote research on the causes of this serious illness both in the US and internationally, where she indeed contributed to the establishment of SIRS and remained one of its ardent supporters. She continues to be active in helping individuals with mental illness and in promoting new ways of ameliorating and preventing schizophrenia. Dr. Delisi is a pioneer in the field of research on schizophrenia. She was the first to conduct a longitudinal controlled MRI study that showed progressive brain change in schizophrenia and pioneered the development of an international collaboration for ascertainment of families with multiple members having schizophrenia to participate in molecular genetic studies. She completed a large international first-generation linkage study of schizophrenia on a cohort of over 300 families whom she personally evaluated and continued her molecular genetic work on through to today finding unique mutations associated with schizophrenia in multiplex families.
A Message from Dame Til Wykes, SIRS President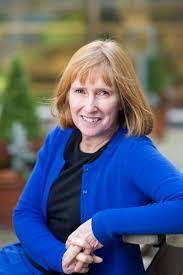 This is a Lifetime Achievement Award - it is certainly deserved, and I am absolutely delighted to be able to applaud the winner. But take a deep breath before reading on to what Lynn has achieved in this lifetime. She didn't start out as a psychiatrist. Her undergraduate degree is in zoology which was followed by an M.D. After her residency in psychiatry at Saint Elizabeths Hospital, Washington DC, she became a researcher in the NIMH Intramural Research Program. Her wandering didn't stop there. After a stint at Stony Brook, she went on to become a fully fledged professor at New York University Langone School of Medicine and Associate Director of the brain imaging division at The Nathan Kline Institute for Psychiatric Research leaving for another position, this time in Boston. In all these appointments she advanced our understanding of the genetics and brain structures in people with a diagnosis of schizophrenia, but at the same time was also busy co-founding and editing journals and, of course, founding our own Society. She has received many awards and prestigious academic fellowships. But it is not just SIRS that thinks she is a worthy recipient of this award. Robert Kolker in his NY Times bestseller, Hidden Valley Road, maintains that she was a pioneer whose persistence in genetics, ultimately led to a potentially causative mutation in a very large family which was associated with the occurrence of schizophrenia. This is her professional life – but she seems to have had another more informal one. She contributes to her local community of Lincoln, Massachusetts as the vice-chairperson of its Planning Board. She is an amateur photographer and spends time with her multiple family members, including 4 grandchildren. I think the only thing to say is just ….. ask a busy woman and she will find the time to do even more amazing things. Lynn thank you for all your contributions to our Society – I am so very glad you found the time for us.